Recently we have tested several Bluetooth speakers from JBL, including the JBL Xtreme and JBL Charge 4. In this context we have dropped the keyword "JBL Connect" from time to time, but what is JBL Connect actually? That is what we are trying to bring you a little closer to today.
JBL Connect and JBL Connect +
For the first time you have to note, there are two different versions of JBL Connect, one with and one without plus (+). JBL Connect is the newer version. But one after the other.
With JBL Connect it is possible to wirelessly connect Bluetooth speakers from JBL and play the same music. You can connect all JBL speakers that support JBL Connect. This includes JBL Charge, Xtreme, Flip, Boombox and Pulse. Outside are JBL Go and Clip and other unlisted speakers. Also not compatible are the JBL Partybox models, these have their own service and also incompatible are products from JBL Professional.
JBL Connect supports up to two speakers from JBL. So you can use another speaker at the same time. With JBL Connect+ you can connect up to 100 speakers. There are two modes of operation, if you connect only two speakers, they will be in stereo mode. If you then connect a third speaker, the system switches to party mode. Here the same sound comes out of all speakers.
How does JBL Connect work?
There are two ways to use JBL Connect. One is to use the JBL Connect app, which displays the speakers currently connected to your smartphone. The link can be created here. Alternatively, you can activate the connection by pressing the JBL Connect button on the speakers themselves. In the first step, press the Connect button on the master speaker, then press the Connect button on the second speaker. Then the two speakers will connect.
Exactly as with JBL Connect, you can also connect the speakers with each other with JBL Connect+. In the app, you have a few more options, but in general, you only need to press the JBL Connect+ button. Afterwards the speakers will connect and you can really party.
Which JBL boxes can be connected?
It is not possible to connect all speakers with JBL Connect to each other. You have to pay attention to the respective version. Speakers equipped with JBL Connect can only be connected to speakers that also have JBL Connect installed. The same applies to JBL Connect+, here too only speakers equipped with JBL Connect+ can be connected. Cross-version connections are not possible. Unfortunately, we don't know why JBL hasn't thought of downward compatibility here either.
In summary, this means that JBL Connect can be used to connect JBL Xtreme (1), Pulse 1 and 2, Flip 3 and Charge 2. With JBL Connect+, JBL Charge 3 and 4, Pulse 3, Flip 4, Xtreme 2 and Boombox and Boombox 2 can be connected. The Pulse 4 and Flip 5 fall out again, these have been given their own standard, called JBL Partyboost – why this is not set to Connect+ is not entirely clear.
For the sake of clarity there is a table again: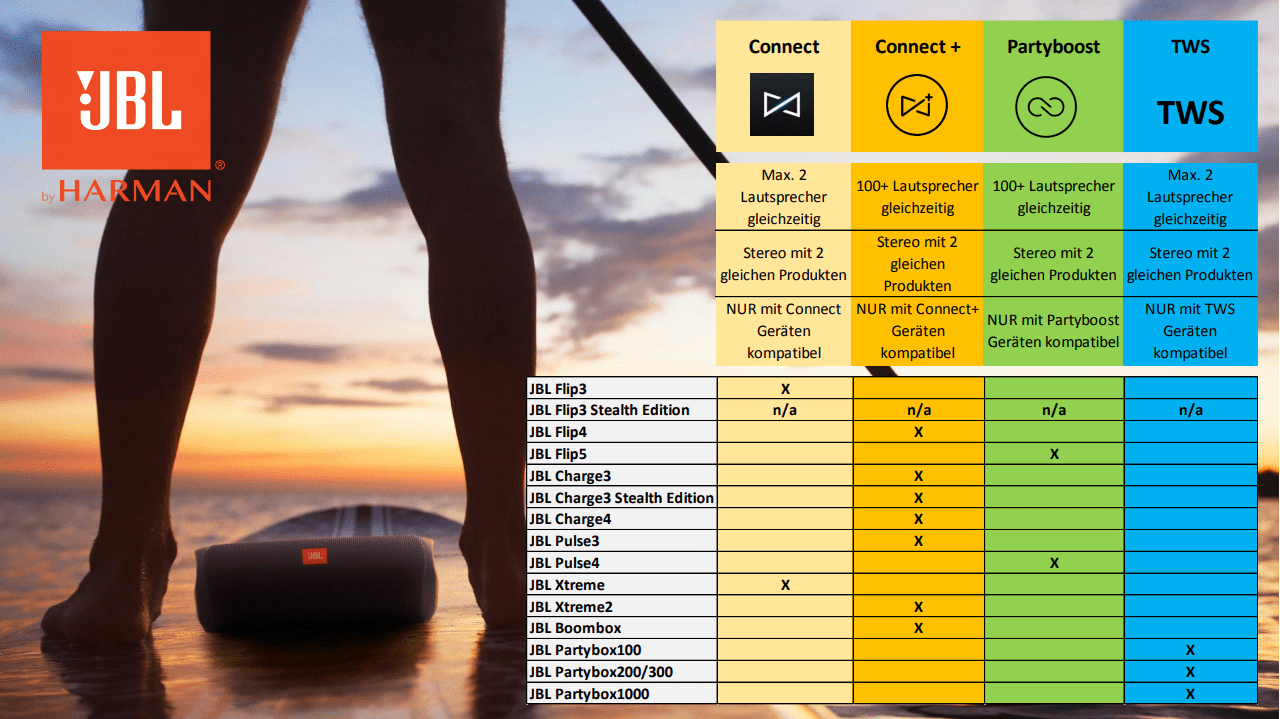 What can the JBL Connect App do?
Unfortunately, the JBL Connect app can do far less than apps from competing manufacturers. The connected speakers are displayed here, and for the Pulse you can make settings for the lighting here. Otherwise, settings can be made in the JBL Connect app for the connection, i.e. whether the speakers should be in party or stereo mode. Depending on the model, you can also set, for example, whether the Play/Pause button should pause the playback or whether Siri should be called up. Unfortunately you can't adjust much more in the app.
And even though the app can display both a JBL Connect and a Connect+ speaker, this does not mean that these speakers can be used at the same time.
The app is available here:
another pair of quick answers:
How many JBL boxes can be connected together?
For JBL Connect a maximum of two speakers is possible, for JBL Connect up to 99 or 100 speakers.
Can you connect all JBL boxes together?
Clear answer: No, only the versions are compatible with each other, unfortunately there is no connection between the standards.
Can you connect JBL Charge 4 with Flip 5 ?
No, the JBL Batch 4 has JBL Connect+, the Flip 5 on the other hand uses JBL Partyboost. But with the Flip 4 it works.
Which app for JBL Charge 3?
JBL Charge 3 can also be controlled via the Connect app, but the app is not particularly useful.
[amazon bestseller="JBL Bluetooth"]