Today we are looking at a tennis bag from a young start-up called Otaro. Strictly speaking, it is a tennis bag with a shoe compartment, which is an aspect that should not be underestimated, especially when buying such tennis accessories. In our test, we paid special attention to the workmanship and practicality. At the same time, it is also important to us to help you find out whether a tennis bag with its own shoe compartment is the right thing for you. As always, we hope you enjoy reading.
What should I consider when buying a tennis bag?
Before we go into more detail about the Otaro product, let's take a look at what you should look for when buying it.
Do you actually need a tennis bag?
The main reason for this is the good protection of the expensive equipment. An ordinary backpack or bag does not offer good padding and thus good protection for the tennis rackets. Furthermore, tennis bags are designed for the size of tennis rackets and offer a comfortable transport option. Anyone who has ever tried to transport tennis rackets in an ordinary backpack knows that this is no fun.
How many tennis rackets do you want to transport?
How many tennis rackets you actually want to transport is a very trivial question at first glance. However, if you forget to ask yourself this before buying, it can be quite annoying. Therefore, it really makes sense to think about this beforehand. Especially tennis players who play more professionally often have more than one racket with them. But it can also be practical for beginners to be able to take the racket of a fellow player. That's why we always recommend a tennis bag with space for two rackets.
How do you want to carry your tennis bag?
Last but not least, there is the question of how you want to carry your tennis bag. It is only important to know whether you want to carry your bag like a backpack or not. Of course, if you like to cycle to the tennis court, you should think about this beforehand.
Basics about the Otaro tennis bag
Now that we have clarified what you should basically look out for, let's take a look at the Otaro tennis bag. The tennis bag offers space for two tennis rackets as well as additional space for tennis shoes. Thanks to two straps, it can be taken off like a backpack. This feature is further enhanced by a chest strap. Thanks to the outer coating, the backpack is also supposed to be waterproof. In addition, there is a racket rain cape that ensures that no rain can get in despite the rackets and that they always stay dry.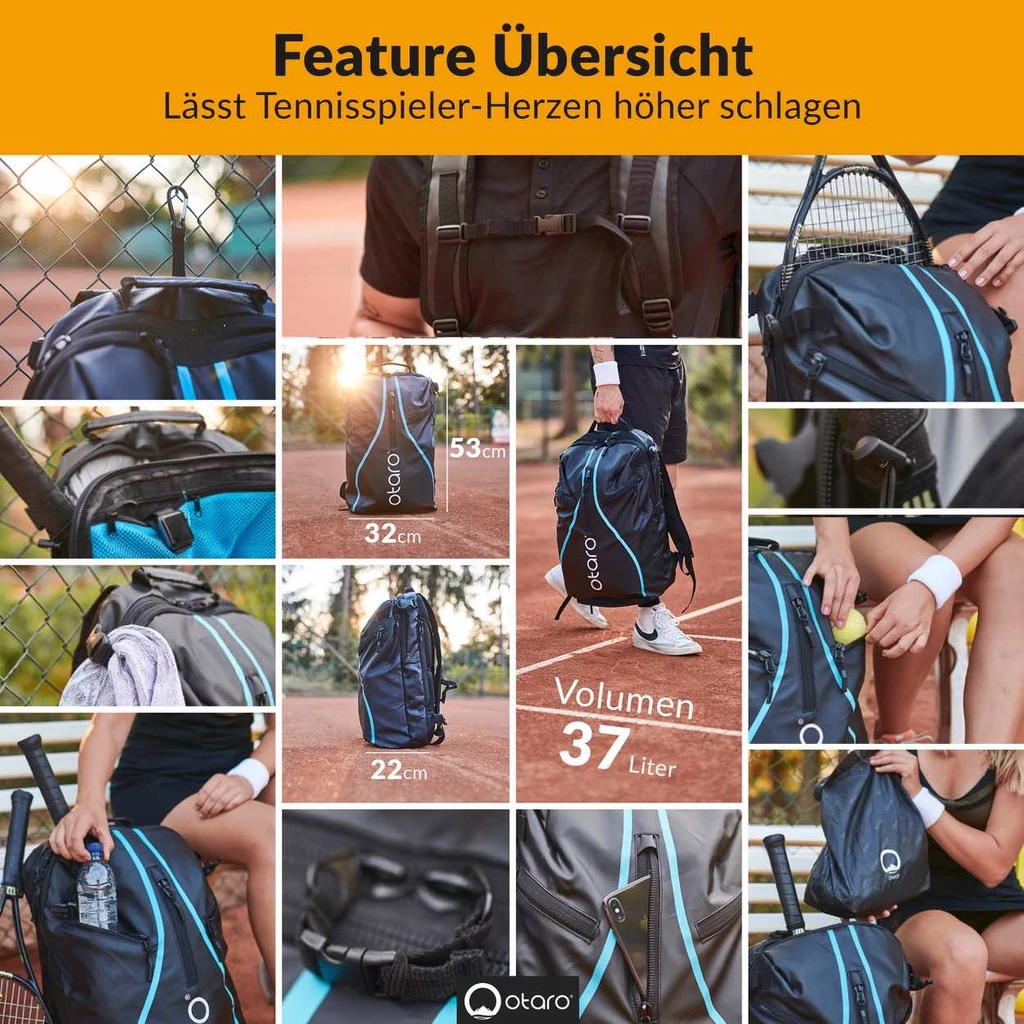 Design and finish
The design of the Otaro tennis bag is modern, but at the same time simple and minimalist. We liked that very much. So far, however, the tennis bag is only available in one colour. We really like the quality of the workmanship. When we looked at the seams, we didn't notice any weak points; all the seams are clean and neat. The zips also make a very good impression, and we would even say that they are better than those on the Head tennis bag, for example. On the front, the tennis bag mainly consists of a rubber coating, which proved to be resistant and water-repellent in our test. All in all, we are very convinced of the design and quality of workmanship, especially at a price of 70 €, you can't go wrong here.
Functionality
You can tell that Otaro puts a lot of thought into their products. The space design of the bag is really well thought-out, it doesn't seem to conform to the norm, yet the complete tennis equipment with shoes and two rackets fits easily into the bag. Furthermore, it offers waterproofing and a thermo-insulated drinks compartment, which we found to be a really exceptional and good feature. The separate shoe compartment is also very pleasant and well implemented. Of course, a separate ball compartment should not be missing for a tennis match. Otaro has also built in a way to combine some compartments. In addition, there is a small laundry bag for dirty laundry. The functionality of this tennis bag really convinced us. Otaro has brought a really good bag onto the market in terms of functionality, if not one of the best.
Carrying comfort of the tennis bag
Finally, we look at the carrying comfort. More than just good padding is important here. For example, whether anything presses uncomfortably when the bag is full. Or whether there is an uncomfortable weight distribution when cycling. From this side, we can reassure you: The space concept is also well thought out in terms of carrying comfort. The padding is still very comfortable even after longer periods of carrying. The chest strap shifts weight from the shoulders to the rest of the upper body. This means the tennis bag can also be used as a backpack for other occasions.
Our conclusion on the Otaro tennis bag
In the end, the question is whether this tennis bag is something for you or not. We were really impressed with the functionality, workmanship and carrying comfort. But it must also be clear: Especially when it comes to design, it always depends on your own taste. Some people might have preferred a fabric front, but the compromise here is that the bag is completely waterproof. After our test, we can only recommend the tennis bag. Especially when you look at the prices of the competition, you can hardly go wrong here.